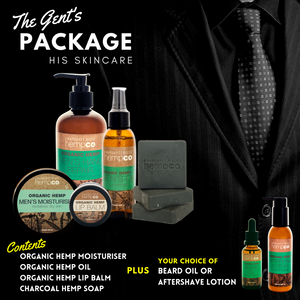 The Gent's Package
Regular price
$136.70
Sale price
$97.00
---
1x Organic Hemp Aftershave Lotion 135ml or Organic Hemp Beard Oil 30ml

- Our Hemp Beard Oil mimics your skin's natural oil balances to give your beard the natural 'oomph' that it needs to grow strong and healthy. Infused with Vitamin E, Argan Oil, and Hemp Seed Oil, this beard oil will soften facial hair whilst promoting a full yet tame look.
- Calm your freshly shaved skin with our Hemp Aftershave Lotion that repairs and maintains skin collagen and elastin. Our Hemp aftershave Lotion is infused with Australian Botanical – Buddhawood and Hemp Seed Oil to calm any skin irritation from your blade.  Simply rub on your hands and pat onto your dry face for one of the smoothest finishes to a shave you've ever seen!
1x Organic Hemp Mens Oil 135ml
This deeply-penetrating Hemp massage oil enters deep into your dermal layers, providing it with hydration and nourishment from within. Hemp Seed Oil, being non-comedogenic, does not clog pores or cause extra oil/sebum production.
Use it to calm and revitalise your rough, tired skin or as a luxurious, relaxing massaging treatment.
The possibilities are endless!
1x Organic Hemp Mens Moisturiser 250g
Men tend to be more regularly exposed to different environmental aggressors throughout the day – and let's face it; we don't do much to combat their effects. The result? Dry, flaky, irritated skin that itches and cracks.
But who has time to spend time crafting an optimal skincare routine for your environment?
We designed our Men's Moisturiser with all of the above in mind.
Using Hemp Seed Oil keeps skincare simple. With the optimal ratio of Omega 3 & 6 oils, you will stay looking youthful and sharp for longer. Walk around with confidence knowing that nothing you're using contains SLS', Parabens, GMO's, or any other chemicals that often wind up in skincare products. On top of that, the Organic Hemp Men's Moisturiser is certified by Choose Cruelty-Free (CCF).
1x Organic Hemp Mens Hand Repair 240g
It's not easy to find the time for skincare when you're working so hard.
Specially formulated for men, this Organic Hemp Hand Cream is designed to nourish, soothe and revitalise hard working male hands. Watch as the power of Hemp Seed Oil turns back the time on your rough and damaged hands.
If you haven't used hand moisturisers throughout your life, this is probably for you!
1x Organic Hemp Lip Balm 10g
Calm dry, chapped or cracked lips with our natural, buttery Hemp Lip Balm.  Designed to aid in skin repair whilst promoting elasticity; this is a true saviour to your lips. Containing a range of high-quality botanicals that work together to bring you nature's greatest gift to chapped and dry lips, this one is a game-changer – especially in drier months!
1x Hemp Charcoal Soap
First of its kind in Australia-and probably the whole world, this Activated Charcoal Hemp Soap draws out impurities, dirt and toxins from your skin. Safe to use on sensitive and damaged skin, this soap will bring back your skin's original radiance, firmness, and elasticity without using chemicals!
This soap has the double benefit of Hemp Charcoal from the plants stalk and Hemp Seed Oil.